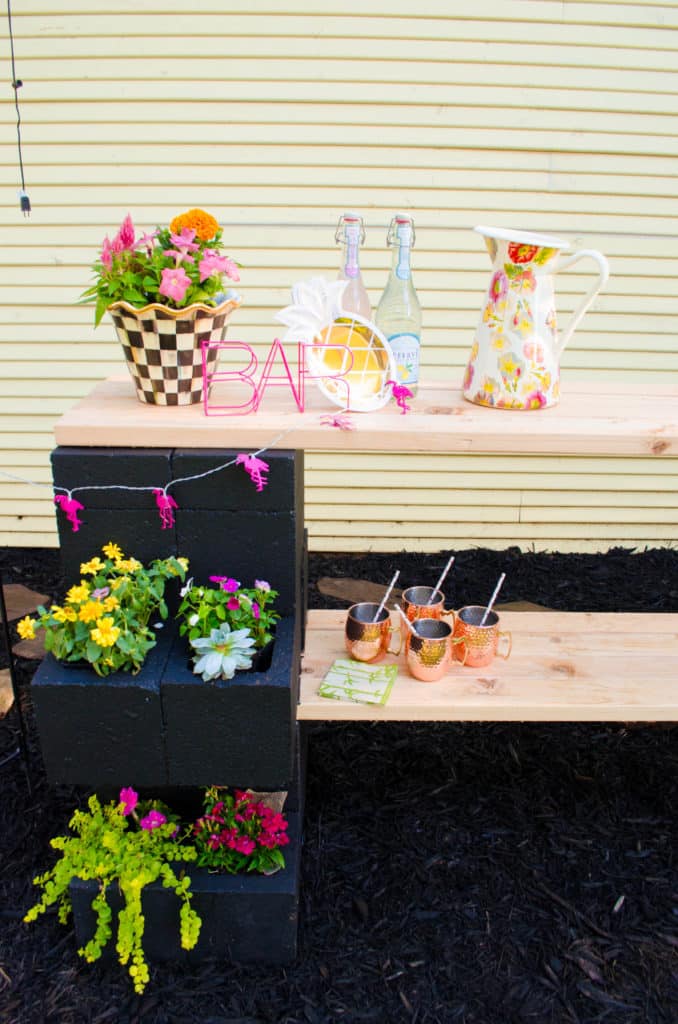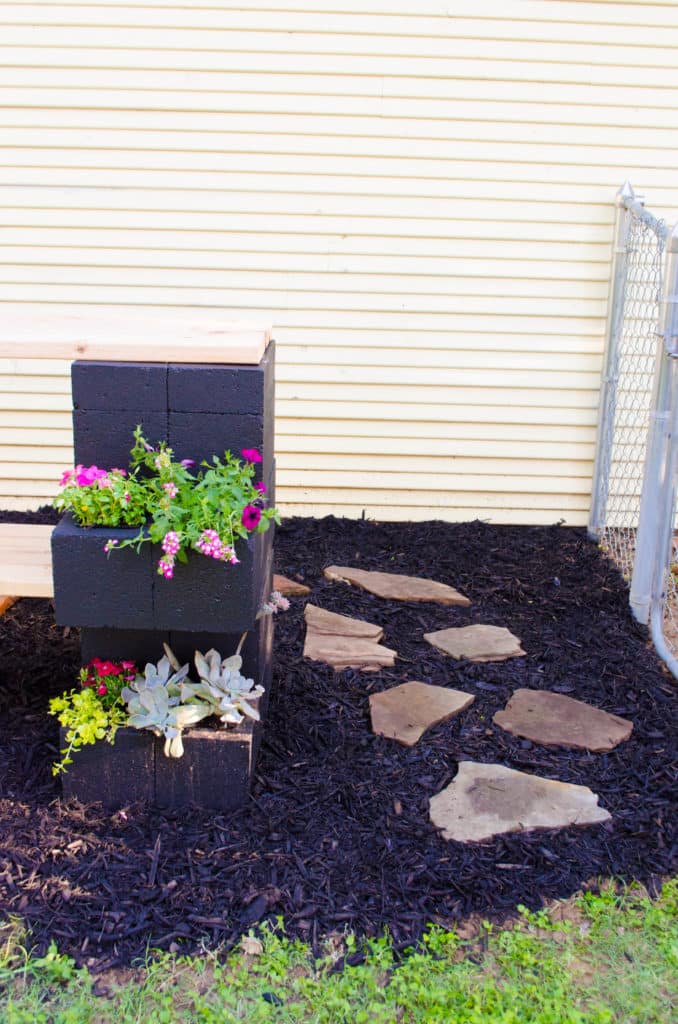 I built this garden bar right before summer came but now that it's starting to cool off a little bit more. Now that the evenings are starting to cool off so we can be outside for more than five minutes without sweating my makeup off, it's the perfect time to build and enjoy an outdoor bar!
Materials:
(8) 2″ x 4″ x 8′ wood boards, stained and sealed for outdoor use
(20) 16″ x 8″ x 8″ cinderblocks
(4) 16″ x 8″ x 4″ cinderblock caps
(8) 6″ plastic containers filled with seasonal plants
Exterior Paint
Paint Brush
How To:
Use a 2×4 to Map Design
This bar is nearly 800lbs, so because of this you will want to find a spot in your yard that can stand the weight. A flat area in the grass, or like I've done in a garden area are great options.
Build The First Layer
Starting by taking one of the 2×4's and placing it on the ground to be your marker for your bar. You'll need three blocks for each side. Lay two cinderblocks facing vertically side by side up against the end of the 2×4 and the third placed horizontally against the other two. (see picture below) Repeat this step for the other side.
Make sure they are level before continuing.
Apply landscape adhesive
Apply a generous amount of landscape adhesive to the posterior 2/3 of the block configurations. Place two cinderblocks on the glued posterior section, leaving the front two cinderblock squares open for plants. Repeat on the other cinderblock set.
Add Lower Shelf
Apply a generous amount of landscape adhesive to the top of both cinderblock sets, then place four 2 x 4 x 8 wood boards lengthwise to form the bottom shelf.
Build Third Level
For the third level, repeat the cinderblock formation from the first level.
Cap It Off
With landscape adhesive, apply the cinderblock caps to the top of each cinderblock structure.
Paint or Natural?
This step is optional! I chose to paint my bar black and just sealed my wood natural.
Fourth Layer
Using landscape adhesive, add the last four 2 x 4 x 8's to the top of the bar.
Add Flowers
This DIY was inspired by a weekend warrior project posted on the HGTV FB page, see theirs here.