What's in my shower?
Watch the video below for inside details!
Kevin Murphy Plumping Wash
10/10 Got to have it!
My hair has been put through the ringer when it comes to getting volume.  Back combing, hair spray, teasing, texture spray, product after product.  I've been on the look out for a volumizing product for years and it wasn't until I found this shampoo that I finally felt confident sharing.
I had teased my hair so much in the past that it looked like I just had post partum hair growth from my hair breaking off so much.  But that extra plump of volume made it seem worth it, until I realized how unnecessary it was and I could achieve natural volume without destroying my hair.
Soap and Glory Flake Away
9/10 Highly Recommend!
Now, my legs don't actually flake away and it's not like I have dead skin falling off of them but I do get very dry in the winter and a great exfoliating body treatment is something I'm always looking for.  What I love about the S&G Flake Away is that it doesn't leave a heavy film on your legs after washing it off and the sugar in the product is very delicate.
I have tried a few different exfoliating products and they end up feeling like I'm trying to massage my body with a piece of sand paper.  Which in return leaves my legs more dry and sensitive than they were before.
Native Body Wash
8/10 Recommend
I don't have a reason for using an all natural body wash, other than the fact it's all natural and I've found myself picking and choosing random beauty products to go natural with.  My deodorant included, but that's a whole other topic for a whole other post.
I really love the smell of the Lavender and Vanilla washes from Native and I feel like the scent lasts throughout the day.  So if you're looking for something more natural to add to your routine, check this one out!
10/10 Have to have it!
This is not your average face cleanser. In fact, it took me a little bit to get used to the fact that the cleanser doesn't foam up on my face.  But apparently I got used to it and fell in love with it because I have been using this same face cleanser for almost 2 years now and my skin has never looked better.
There are other steps in my skincare routine that have worked hard making my skin glow and appear more flawless than when I was a teenager but this is a big one and I use it every single day.  Luxury skincare without the huge price tag.
Harry's Razor
8/10 recommend
The only reason I'm not giving this razor a 10/10 is because I don't think there is a razor out there that will ever make my legs look like I don't even grow hair.  But this is the next best thing to that.  I have very dark, coarse, thick, and stubborn leg hairs.  After doing a live razor testing review, this one took the cake for the closest shave I have ever had.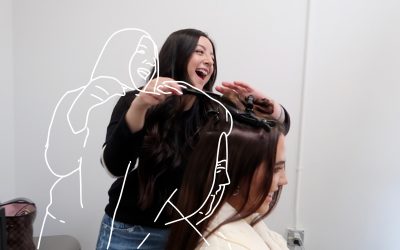 Hand Tied ExtensionsFAQ#2 and #2/6It takes about an hour for one row and an hour and a half to two hours for 2 or more rows.8-10 weeks is the best move up time.The hair, depending on your care of them, can last 9 months to a year or more.The extensions are anywhere...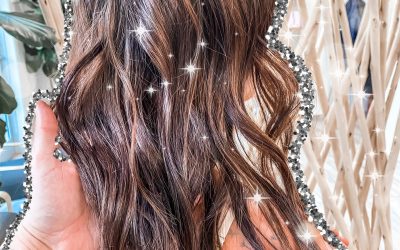 My Secrets to Shiny HairTop rated products for  major shine!1Eat right. Shine bright.  What we eat and drink plays the most important part in the health and shine of our hair (and skin!).  Eggs, spinach, sweet potatoes, avocados, and nuts are some of the leading foods...